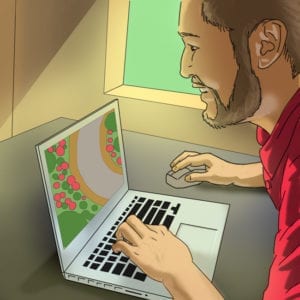 This isn't about "landscaping."
It's about enriching the EXPERIENCE you have, right at home.
We transform your outdoor space into an extension of your home that blends beauty and practicality with your vision and your lifestyle.
Let us accent your patio with a shade structure, add ambience with a fire pit, or create an outdoor kitchen for fun and convenience.
Or let us create a dramatic focal point, like a sheet of falling water…Or we'll give you the intimacy of a ribbon of rounded stones that bottom a stream so slight that a child can easily jump it.
Whether, you want to make a statement, entertain or just your own private getaway— we can do it.
You'll love how we integrate native plants into your landscape. Plants that will thrive and attract beneficial insects like bees and butterflies, and wildlife like hummingbirds and robins.
We'll add color and contrast with fast growing shrubs that mature with a lasting beauty. And, bring dimension and scale with trees that provide shade and protection from the wind.
Or, we can create arid beauty with Xeriscaping that uses water stingy plants and helps sustain water resources while lowering your water bills.
Whatever your dreams for the perfect outdoor space we can fulfill them.
"My wife and I just had our backyard designed by Kenny and created by Jose, Miguel, Larson and Tait and we love the results. We couldn't be happier to finally have a backyard that we will be able to enjoy. Thank you all!" -Ron Frazier
Red Shovel offers Design, Layout and Construction Services.