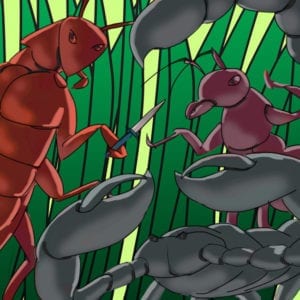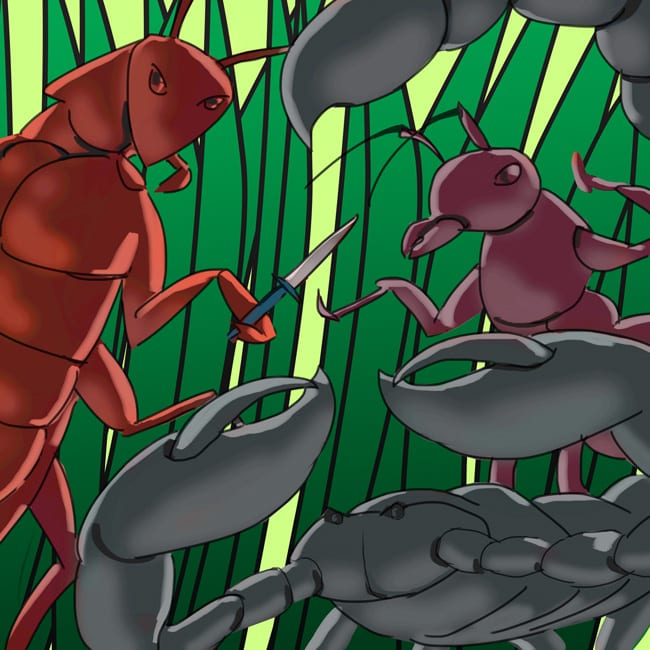 Conquering Lawn Pests with Red Shovel Landscape
Are you looking for the best Lawn pest control in Albuquerque? Red Shovel Landscaping is here to help! Our team offers reliable, efficient, affordable pest control solutions tailored to your needs. Why risk your family's health or suffer the embarrassment of an invasion of nasty bugs or insects?
In the heart of Albuquerque, where the sun generously nourishes the land, maintaining the health and vibrancy of your lawn is both a priority and a challenge. The battle against a variety of stubborn lawn pests begins with understanding and strategy; no one knows this better than Red Shovel Landscape. With a commitment to restoring and preserving the natural beauty of your outdoor spaces, Red Shovel offers comprehensive lawn pest control solutions designed to tackle each critter head-on.
Our approach goes beyond mere elimination, focusing on preventative measures and sustainable practices that respect the local ecosystem. In a place where every drop of water is precious, and the terrain requires a knowledgeable touch, trust your lawn to the experts who wear their love for Albuquerque's landscapes on their sleeves.
Periodically, we'll conduct "Well Checks" of your lawn, garden, shrubs, and trees to ensure they grow as they should. Learn steps to revive pest-damaged lawn from the experts at Red Shovel Landscape.
Red Shovel Landscape: Eco-friendly Pest Control in Albuquerque

From the dry air to the warm weather, there's plenty to love about the climate in Albuquerque. Unfortunately, along with the beauty of the desert comes the pests that thrive in the dry environment. If you own a home or business in the area, contacting a pest control specialist will be essential in protecting your investment.
In New Mexico, you're likely to come across:
Spiders.
Centipedes.
Wasps.
Scorpions.
Fire ants.
Cockroaches.
Rodents.
Common Lawn Pest in Albuquerque
Indeed, maintaining a lush, green lawn is no small feat, especially when it becomes the battleground for various pests vying for control. In Albuquerque, homeowners pride themselves on their well-kept landscapes, a task made challenging by the area's unique climate and the variety of lawn pests it attracts.
Red Shovel Landscaping understands these challenges and is committed to helping you identify common threats and establish a first line of defense, ensuring your lawn remains a vibrant sanctuary, not a pest paradise. Below, we'll go into a comprehensive list of those uninvited guests, looking over their characteristics, the risks they carry, and the initial steps you can take to protect your green oasis.
Grubs (Larvae of various beetles)
Threats: Grubs feed on the grass roots, causing lawn patches to wilt or die. Heavy infestations can lead to significant root loss, creating unsightly brown areas.
Prevention tips: Keep your lawn healthy with regular maintenance. Early summer is ideal for preventative treatments, as grubs are smaller and more susceptible to control products.
Billbugs
Threats: These weevils' larvae also consume grassroots, leading to similar damage as grubs. Adult billbugs can harm lawns as they chew grass stems and crowns.
Prevention tips: Proper lawn watering and mowing practices strengthen grass against billbugs. Pesticides are more effective on young larvae, so early detection in spring is crucial.
Armyworms
Threats: Armyworms devour grass blades quickly, leading to large areas of defoliation. They can cause severe destruction overnight, especially in warm, humid conditions.
Prevention tips: Regular lawn inspections can help detect armyworms early. Biological control using natural predators, like birds or parasitic wasps, can help manage their population.
Cutworms
Threats: Cutworms feed at night, severing young plants at the base and damaging new growth. They primarily cause harm in the spring.
Prevention tips: Cultivate the soil before planting to disrupt the worms' environment. Plant collars can protect new plants. Natural predators or suitable insecticides can control active infestations.
Sod Webworms
Threats: The larvae of these moths create silk-lined tunnels near the surface, feeding on grass blades and resulting in brown patches. Damage usually appears from early summer through fall.
Prevention tips: Encourage natural predators like birds to visit your lawn. Proper watering and fertilization promote recovery from damage. Insecticidal treatment may be necessary for severe infestations.
Chinch Bugs
Threats: Chinch bugs suck the sap from grass blades, injecting a toxin that causes yellowing and death. They thrive in hot, dry conditions, often causing widespread damage.
Prevention tips: Watering your lawn deeply but infrequently helps prevent chinch bug infestations. Mow at the proper height for your specific grass type and choose resistant grass varieties.
Aphids
Threats: While less common in lawns, aphids can gather on certain ornamental grasses or shrubbery, weakening plants by sucking their sap.
Prevention tips: Introduce beneficial insects like ladybugs to control aphids naturally. A strong stream of water can dislodge aphids from plants. Regular pruning of infested areas helps manage their population.
Knowledge, vigilance, and the appropriate response are crucial in maintaining a pest-free lawn. Red Shovel Landscaping brings expertise and a deep understanding of Albuquerque's ecosystem, helping homeowners navigate these challenges to uphold the health and beauty of their outdoor spaces. With these insights, you'll be able to tackle the problem of lawn pests head-on, equipped with the confidence that professional assistance is just a call away. Understand when lawn pests are most active in your Albuquerque lawn.
Guard Your Investment with Residential Pest Control
Your lawn is not just a plot of grass—it's an investment in your property, the health of your community, and the local ecosystem. In Albuquerque, NM, where unique flora thrive under the southwestern sun, safeguarding your verdant space from invasive pests becomes critical to property maintenance. Red Shovel Landscape acknowledges the effort and resources homeowners invest in their lawns.
That's why we provide top-rated lawn pest control services, utilizing environmentally responsible methods that protect and nourish your land. By identifying and eliminating unwelcome intruders, from relentless aphids to destructive grubs, we help ensure your lawn remains a flourishing sanctuary. Our holistic approach, local horticulture expertise, and customer satisfaction dedication make Red Shovel Landscape your premier partner in preserving Albuquerque's natural charm right in your backyard.
Embracing Nature: Eco-Friendly Lawn Pest Control in Albuquerque
In the diverse ecosystems of Albuquerque, where the desert blooms and urban landscapes meet, maintaining the delicate environmental balance is crucial. Red Shovel Landscape specializes in eco-friendly lawn pest control solutions, recognizing the importance of sustainable practices that safeguard both your lawn and the broader natural habitats of New Mexico. Our commitment to ecological health and safety transcends essential pest management, offering you a conscientious approach to lawn care that respects the region's biodiversity.
Preserving Local Ecosystems: Our eco-friendly pest control methods ensure the survival of beneficial insects and microorganisms essential to your lawn's ecosystem and the larger environment of Albuquerque. By targeting only harmful pests, we maintain the biodiversity that enriches soil quality and plant health.
Safety for Family and Pets: Red Shovel Landscape's non-toxic solutions mean that your children and pets can play on the lawn immediately after treatment without exposure to harmful chemicals. Our strategies emphasize safety, leaving you at ease with minimal disruption to your outdoor enjoyment.
Prevention of Chemical Resistance: Overusing traditional pesticides can lead to pests developing resistance, making future infestations harder to control. Our eco-friendly alternatives ensure effective long-term management, preventing the cycle of resistance and over-reliance on chemicals.
Protection of Water Resources: Albuquerque thrives on its precious water sources. Our environmentally responsible pest control practices eliminate the risk of water contamination from pesticide runoff, protecting the aquifers and waterways that nourish the entire area.
Enhancement of Plant Health: Healthy plants naturally resist pests and disease. Using eco-friendly solutions, we help strengthen your lawn's natural defenses, encouraging deeper root systems and more robust plant growth without chemical dependence.
Supporting Pollinators: Pollinators are vital to the health of any garden and the global food supply chain. Our methods ensure these crucial creatures, from bees to butterflies, are unharmed, supporting a thriving ecosystem in your outdoor spaces.
Contribution to Air Quality: By reducing the reliance on fossil-fuel-based pesticides, our eco-friendly approaches contribute to cleaner air, limiting the volatile organic compounds that traditional pest control methods can release into Albuquerque's atmosphere.
Expertise in Sustainable Practices: Our team stays abreast of the latest advancements in eco-friendly lawn pest control, continuously adapting our methods to provide practical, sustainable solutions. This commitment to education and innovation makes us leaders in responsible lawn care.
Red Shovel Landscape's holistic approach to lawn pest control in Albuquerque underscores our dedication to the community's environmental health. By choosing our services, you're not just getting a pest-free lawn; you're supporting a greener, more vibrant future for all residents of Albuquerque.
At Red Shovel Landscape, our team of licensed technicians has the experience needed to handle your pest problem. We train in the latest
eco-friendly treatments
and techniques to ensure we can offer state-of-the-art pest control to our clients.
Quick Service from the Top Albuquerque Pest Control Company
If you suspect you have a pest problem, don't delay contacting the professionals. If you do, the problem will only get worse. Red Shovel Landscape believes every member of our community deserves a clean and pest-free property. That's why we offer fast and thorough service at an affordable price. 
Our services include:
Quick customized quotes.
Comprehensive pest inspection.
Eco-friendly pest removal.
Interior and exterior pest removal.
Exclusion solutions to protect your home.
Ongoing treatment plans.
Learn common FAQs about Lawn Pest Control in Albuquerque, NM.
Fill out the form below to see just how little it cost to say…
"Adios Amigos" to these unwanted pests.