Same Day Service – Yard Clean Up
Yard Clean Up Services In Albuquerque, NM
We all love a beautifully landscaped yard, but maintaining it can be daunting. Red Shovel Landscaping offers premier yard cleanup services in Albuquerque, NM, to make your outdoor space shine. Whether you're preparing for an event, cleaning up after a storm, or simply needing a helping hand with your yard maintenance, our skilled team is here to help.
STEP 1:
Choose Your Services
(You can buy any service a'la carte)
STEP 2:
Call to Schedule Same-Day Service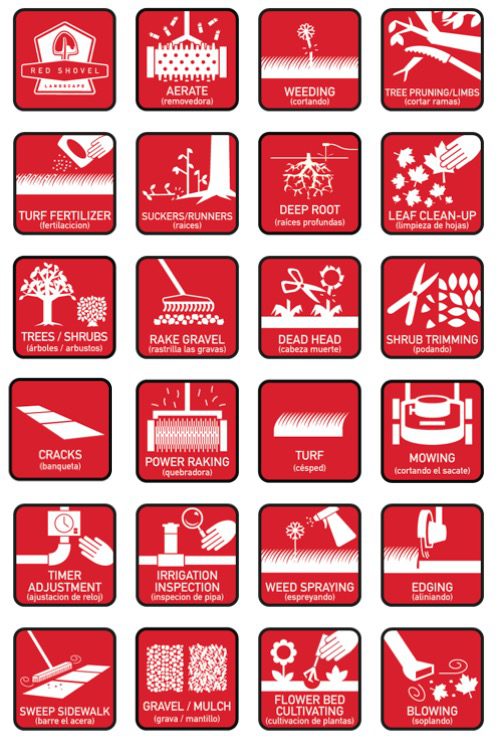 What Yard Cleanup Services are available?
At Red Shovel Landscaping, our comprehensive yard cleanup services in Albuquerque, NM, are designed to leave your yard looking its absolute best. We know every yard is unique and requires a tailored approach, so we offer a wide range of services to cover every aspect of yard cleanup.
Here's what yard cleanup services are available:
Debris Removal: Our team will collect and remove yard debris, including leaves, branches, grass clippings, and more. This not only improves the appearance of your yard but also helps prevent pests and diseases.
Pruning and Trimming: We'll prune and trim your shrubs, hedges, and trees to promote healthy growth and keep your yard neat.
Weed Control: Unwanted weeds can overtake your yard and choke out desirable plants. Our team will remove weeds from your lawn and garden beds and provide solutions to keep them from returning.
Lawn Care: We'll mow your lawn to the appropriate height and edge along driveways and walkways for a clean, manicured look.
Garden Bed Maintenance: Our team will clean your garden beds, remove dead plants and other debris, and prepare them for new plants as needed.
Fertilization: We can apply a balanced fertilizer to your lawn and garden to promote healthy, lush growth.
Mulching: We can apply Mulch in garden beds and around trees. It not only improves the appearance of your yard but also helps retain soil moisture, control weeds, and enrich the soil.
Storm Cleanup: If a storm has left your yard in disarray, our team can remove fallen branches, repair damaged landscape features, and help restore your property to its pre-storm condition.
Gutter Cleaning: Clean gutters are crucial to avoid water damage to your home. We can clean out your gutters and downspouts to ensure they flow freely.
Remember, maintaining a beautiful yard requires ongoing effort. With the help of Red Shovel Landscaping's yard cleanup services, your outdoor space will be a source of pride and enjoyment without the hard work.
Seasonal Yard Cleanup Services
As the seasons change in Albuquerque, NM, so too do the needs of your yard. Red Shovel Landscaping's seasonal yard cleanup services help your outdoor space navigate these changes and continue to thrive. In the spring, we focus on preparing your yard for the growing season, including mulching, fertilizing, and planting.
During the summer, our attention turns to regular maintenance like mowing, weeding, and pruning. As fall approaches, we shift to leaf and debris removal, and in the winter, we provide services to protect your plants from the cold and prepare your yard for the following year. With Red Shovel Landscaping by your side, every season can be beautiful for your yard.
Yard Cleanup for Event Preparation
Are you preparing for an event in your Albuquerque, NM yard? Let Red Shovel Landscaping ensure your outdoor space is in peak condition. Our event preparation yard cleanup creates an immaculate, welcoming environment for your guests.
We'll manage everything from mowing and edging the lawn, pruning shrubs, removing debris, refreshing garden beds, and leaving your yard looking its absolute best. And once your event ends, we'll restore your yard to its pre-event state. With Red Shovel Landscaping handling your yard cleanup, you can focus on enjoying your event and making lasting memories.
Why Choose Red Shovel Landscaping For Your Yard Clean Up Services?
Choosing the right team for your yard cleanup services is crucial to ensure your outdoor space looks its best and maintains its health and vitality. Red Shovel Landscaping in Albuquerque, NM, offers many advantages that set us apart in the landscaping industry.
Here are the top reasons why you should trust us with your yard cleanup needs:
Expertise and Experience: With years of experience under our belts, we've honed our skills to provide top-notch yard cleanup services. Our team understands the unique needs of various plants and landscapes in Albuquerque, and we apply this knowledge to every project.
Comprehensive Services: From simple debris removal to more complex pruning tasks, our yard cleanup services cover all aspects of yard maintenance. We provide a one-stop solution for all your landscaping needs.
Seasonal Knowledge: Each season presents unique challenges and opportunities for your yard. Our seasonal cleanup services cater to these changes, ensuring your yard remains in top condition throughout the year.
Customer-Centric Approach: Your satisfaction is our top priority. We work closely with you to understand your needs and preferences, and we go above and beyond to exceed your expectations.
Environmentally Friendly Practices: We believe in preserving the environment while maintaining your yard. We use eco-friendly techniques and products, minimizing our impact on the environment.
Reliability and Professionalism: We pride ourselves on our reliability and professionalism. Our team arrives on time, completes the job efficiently, and leaves your property tidy and clean.
Competitive Pricing: We offer high-quality services at competitive rates, providing exceptional value for your money.
Choosing Red Shovel Landscaping for your yard cleanup needs in Albuquerque, NM, ensures that your outdoor space receives the care and attention it deserves. Trust us with your yard, and we'll transform it into a place of beauty and tranquility.