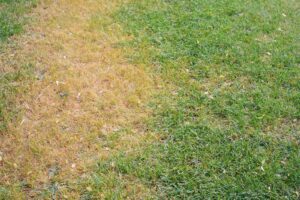 In the vibrant landscapes of Albuquerque, a lush, green lawn is more than just a plot of land; it's a sanctuary, a play area, and a source of neighborhood pride. Yet, when lawn pests invade, they can quickly transform this green oasis into a patchwork of pest damaged lawn, causing distress to any homeowner. If your lawn has fallen victim to the relentless appetites of invasive pests, do not despair.
Restoring your lawn to its former glory is more than possible, and with the expertise of Red Shovel Landscape Lawn Pest Control, it's a journey you won't take alone. This comprehensive guide will illuminate the path from assessing the havoc wreaked by lawn pests to the step-by-step revival of your beautiful green space.
Identifying the Culprit: Know Your Enemy of Pest Damaged Lawn
In the heart of Albuquerque, where the desert sun meets the verdant expanse of residential lawns, a silent battle is often underway beneath the blades of grass that homeowners cherish. Lawn pests, clandestine in their approach, can wreak havoc on your lush, green turf before you even notice the first signs of an invasion. Identifying these culprits is not just a step but a strategy, a way of reclaiming your peaceful backyard oasis and restoring it to its former glory.
Red Shovel Landscape, equipped with profound expertise and a deep understanding of local eco-challenges, is your trusted ally in this critical identification process. Let's delve into a detailed examination of common invaders, learning how to spot them, understand their threats, and how Red Shovel Landscape's expertise is pivotal in turning the tide against these pesky assailants.
Grubs: These larvae of various beetle species are infamous for feeding on the grassroots, creating patches of turf that can be easily pulled back from the soil. Red Shovel Landscape's experts are adept at spotting the subtle signs of a grub infestation. We can implement preventative measures during the beetles' egg-laying season, protecting your lawn's vitality.
Cutworms: These nocturnal creatures clip the grass at the base, causing widespread damage overnight. They are often identified by the small, brown patches they leave, and the presence of the worms themselves curled up in the soil. With their extensive experience, Red Shovel Landscape technicians can guide you through targeted, effective treatments to curb cutworm populations, mitigating their destructive habits.
Other culprits to pest damaged lawns:
Sod Webworms: The larvae of lawn moths, sod webworms, create brown patches and can be seen scurrying across the surface at dusk. Their silk-lined tunnels are another telltale sign. Red Shovel Landscape utilizes integrated pest management strategies that disrupt the life cycle of these pests, safeguarding your lawn's health without excessive reliance on chemical interventions.
Armyworms: These pests are known for their voracious appetites, consuming grass blades and leaving behind bare soil. They are most active in the late summer and early fall. Red Shovel Landscape's proactive monitoring and timely intervention strategies are essential in preventing an all-out armyworm invasion and preserving your lawn's aesthetic and health.
Chinch Bugs: These tiny bugs can cause significant damage by sucking the sap from grass blades and injecting toxins that impede water uptake, resulting in irregular brown patches. Red Shovel Landscape's experts are skilled in identifying chinch bug damage and employing sustainable control measures that target these pests while preserving the beneficial organisms in your lawn.
Billbugs: Adult and their larvae feed on grass roots and stems, causing widespread wilting and yellowing. Early detection and treatment are crucial. Red Shovel Landscape has the knowledge and resources to handle these infestations, employing strategic interventions that protect and revive your lawn.
Each of these pests presents a unique challenge, demanding an identification-driven approach to lawn care. This process, however, can be manageable for homeowners in Albuquerque. With Red Shovel Landscape, you have access to a reservoir of expertise, innovative solutions, and relentless dedication, ensuring that your lawn remains more than a stretch of land but a testament to verdant resilience amidst desert challenges.
Assessing the Damage: Scope and Severity
Once you've identified the pest, it's vital to assess the extent of the pest damaged lawn. This assessment isn't just about surface-level destruction; it involves understanding the impact on the lawn's root system and soil health.
Root Health: Check the stability and depth of the grassroots, as a weakened root system is a sign of significant damage.
Soil Condition: Analyze soil compactness and nutrient balance, as pests can disrupt the natural ecosystem necessary for grass growth.
The talented team at Red Shovel Landscape can perform a comprehensive analysis, providing a clear assessment of your lawn's condition and the necessary steps for its rejuvenation.
The Healing Begins: Pest Eradication
The critical next step is to eradicate the existing pest population. This is accomplished by implementing eco-friendly, sustainable practices that eliminate pests while minimizing environmental impact.
Biological Control: The introduction of natural predators can provide long-term management of pest populations.
Targeted Treatments: Use environmentally safe pesticides or organic solutions applied to affected areas with precision.
Leveraging their understanding of ecological balance, Red Shovel Landscape ensures that pest control solutions are practical and responsible.
Nourish to Flourish: Restoring Soil Health
Reviving your lawn requires a return to the basics, starting with the soil. Restoring its health is paramount for encouraging the regrowth of healthy, resilient grass.
Aeration: This process allows better absorption of nutrients, water, and air by loosening compacted soil.
Soil Amendments: Addressing necessary adjustments to pH levels and nutrient deficiencies based on soil test results.
Red Shovel Landscape's comprehensive soil restoration services set the stage for robust lawn regrowth, creating an environment where grass can thrive pest-free.
Regrowth and Resilience: Seeding and Beyond
With pests eradicated and soil replenished, your pest damaged lawn is ready for regrowth. This stage involves choosing the right type of grass, seeding, and consistent care and maintenance.
Grass Selection: Opt for species known for their pest resistance and suitability to Albuquerque's climate.
Proper Seeding: Techniques like overseeding ensure even grass distribution, and hydroseeding can promote faster germination and growth.
Consistent Watering and Mowing: Establish a routine to encourage strong root development and overall health.
Red Shovel Landscape can guide you through the regrowth process, offering expert advice and maintenance tips for your newly revived lawn.
Preventative Strategies: Keeping Pests at Bay
Finally, protecting your rejuvenated oasis requires a forward-thinking approach. Preventative care is an ongoing effort, ensuring your lawn remains unappealing to future pest invasions.
Regular Monitoring: Watch for early signs of pest activity to halt new infestations in their tracks.
Natural Deterrents: Consider planting flowers or herbs known to repel specific pests native to the Albuquerque area.
Healthy Lawn Practices: Regular aeration, proper watering, and balanced fertilization contribute to a resilient lawn environment less susceptible to pest invasions.
With Red Shovel Landscape's wealth of knowledge and support, homeowners can learn and implement effective strategies to safeguard their lawns year-round.
Your Thriving Green Space Awaits From Pest Damaged Lawns
Though the journey from a pest damaged lawn to a thriving green space may seem daunting, it is far from impossible. With expert insights, dedicated care, and patience, your lawn can recover and flourish, becoming more resilient to future threats. Red Shovel Landscape stands with Albuquerque homeowners every step of the way, turning lawn restoration from a chore into a rewarding journey toward a lush, green sanctuary you can call your own.