Los Chavez Landscaping is a full-service groundskeeping company and licensed contractor. Founded in 2004, Los Chavez Landscaping is among the leading companies in New Mexico.
Los Chavez Landscaping Services
Groundskeeping
 HOAs and Albuquerque neighborhood organizations can take advantage of groundskeeping services. Most neighborhoods have walking trails, parks, and neighborhood entrances with decorative flowerbeds; each area requires ongoing maintenance to keep the community looking nice. Hiring a groundskeeper is an excellent way to invest in your home, business, and neighborhood. Whether you're a homeowner or business owner, contact us today to learn more about what Los Chavez can do for you.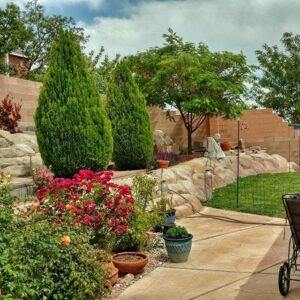 Landscape and Design
 There are millions of ways you can change your landscaping. From softscape and hardscape to stone pathways and water features, there are a few things you can't do with enough planning. It can be challenging to narrow down your extensive list of ideas between all of the details you can choose from. We can help with each step, including design and material choices. Then we'll form a concrete plan of action to put the pieces together.
Lawn Care
 Our landscape architects and designers are the artists making your landscape dreams come true. Los Chavez Landscaping has what it takes if you want your yard to look great. Likewise, we offer lawn care services to address your lawn's health; these services range from mowing and tree and shrub care to aeration, seeding, and weed control. 
Pest Control
 When it comes to New Mexico pest control services, look no further than the full-service Los Chavez Landscaping. We're dedicated to customer satisfaction, so we don't walk away as soon as we finish the job; we'll work to ensure your beautiful new yard stays free from invasive and destructive pests. In addition, our fully-licensed technicians are backed with years of experience in pest control in Albuquerque and the surrounding areas. 
Tree Trimming
 Is that big tooth maple tree in your yard losing its branches? Maybe you need some essential tree pruning to let in more of that bright New Mexico sunshine? Whatever the issue, Los Chavez Landscaping has the experience and expertise necessary to provide tree services in Albuquerque and the surrounding areas. 
Christmas Light Installation
 Christmas light scenes can be beautiful, but setting them up is a lot of work; climbing up a shaky ladder is just the first step. Plus, there's just nothing jolly about trying to find the burnt-out bulb. So let Los Chavez take care of everything while you sit back, drink some hot cocoa, and watch those classic Christmas movies. 
REDBot
 Our REDBot robotic lawn mower is our signature automated service. We provide the REDBot mower on a subscription basis for daily maintenance. You can access our team of experts who can handle pest control, weed control, and turf care services for your monthly fee. Contact Los Chavez Landscaping today to find out more information and set up your lawn care subscription.