Landscape Construction Albuquerque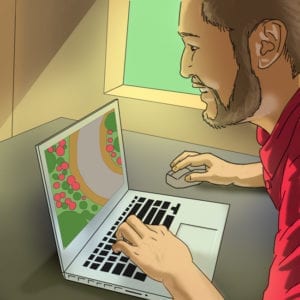 This isn't about "landscaping."
It's about enriching the EXPERIENCE you have, right at home.
We transform your outdoor space into an extension of your home that blends beauty and practicality with your vision and your lifestyle. Our landscape construction is the best of the best!
Let us accent your patio with a shade structure, add ambience with a fire pit, or create an outdoor kitchen for fun and convenience.
Or let us create a dramatic focal point, like a sheet of falling water…Or we'll give you the intimacy of a ribbon of rounded stones that bottom a stream so slight that a child can easily jump it.
Whether, you want to make a statement, entertain or just your own private getaway— we can do it.
You'll love how we integrate native plants into your landscape. Plants that will thrive and attract beneficial insects like bees and butterflies, and wildlife like hummingbirds and robins.
We'll add color and contrast with fast growing shrubs that mature with a lasting beauty. And, bring dimension and scale with trees that provide shade and protection from the wind.
Or, we can create arid beauty with Xeriscaping that uses water stingy plants and helps sustain water resources while lowering your water bills.
Landscape construction work is essential for maintaining the curbside appeal of the property and enhancing the aesthetics of the yard. There are two distinctive types of landscaping services. Each landscaping situation has unique features that need to be addressed according to the particular circumstances. Here is an overview of the two key categories to keep in mind when planning your next landscape design.
Hardscapes and Softscapes
The hardscape utilizes particular kinds of materials. These tough surface items are used in the structural areas of the landscaping construction project. Examples include the materials used in fencing, paving, fire pits, decks, patios and more. The features of permanent installations are also part of the hardscape. Examples include water fountains, waterfalls, stonework, ponds, outdoor kitchenettes, retaining walls and other outdoor installations. This category also includes portable items like barbecues and patio furnishings.
Softscaping involves a process that utilizes organic material and plants. There are many types of plants that can be used in softscape installations. For example, this might include shrubbery, trees, soil types, perennials, flowers, annuals, climbing vines and more. Some forms of landscaping construction involve architecture. Landscape design and construction can also be included in this category. Many softscaping plans account for large renovations of estate properties and moderate-sized residential properties.
Landscaping Construction as Investment
The investment in landscape construction affects the overall property value. This will also affect the home equity, which pays dividends upon the successful sale of the property. On the aesthetic side of the equation, the landscaping process can materially improve the daily quality of life. These projects vary greatly in complexity as well as in monetary terms. Some projects can be completed quickly with a budget of a few hundred dollars while others might require extensive planning, development and financing.
Consider the following issues when considering any hardscape or softscape installation:
The landscape construction planning process should account for any possible problems that might complicate the project. This can include issues like drainage routes, soil pH balance, water lines, underground hazards and other potential problems.
The purpose of the landscaping construction must be taken into account in order to get the result desired. The intended purpose of one project could be recreational, for example; however, other projects might be intended to raise the value of the property. The purpose of the project should be a factor in how the work is done.
Consider the current layout of the property as a whole before settling on a proposed course of action. Common issues might include the pathways that already exist in the yard. If you wish to change the layout of the natural routing of the yard, this is the time to address it.
Consider getting a range of ideas from different sources before deciding on the final landscaping construction plans. Work with a landscaping company that will listen to your ideas, concerns and budget limitations.
Always confirm the qualifications and certifications of your landscaping contractor. The company should be properly insured, and the contractors should have licensing and references.
Landscape Construction Service Offerings
When this process is done by experienced professionals, the final outcome can be stunning. The aesthetics of the outdoor recreational areas can have a significant impact on the quality of the time you spend enjoying the outdoors. Consult our experts to refine your vision of the outdoor area, which will effectively become an extension of your home.
Whatever your dreams for the perfect outdoor space we can fulfill them.
"My wife and I just had our backyard designed by Kenny and created by Jose, Miguel, Larson and Tait and we love the results. We couldn't be happier to finally have a backyard that we will be able to enjoy. Thank you all!" -Ron Frazier
Red Shovel offers Landscaping Layout and Construction Services.