The Seasonal Battles: When Lawn Pests are Most Active in Albuquerque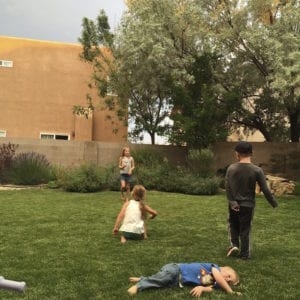 In the heart of New Mexico, Albuquerque residents relish their city's vibrant colors and diverse landscapes. However, beneath this regional beauty lurks a cyclical battle against nature's less desirable elements: lawn pests. These tiny invaders can disrupt your yard's tranquility and health. Understanding when lawn pests are most active in Albuquerque and the seasonal patterns of these pests is crucial in maintaining a pristine landscape. In this comprehensive guide, we delve into the times when these uninvited guests are most active, how Albuquerque's unique climate contributes to their life cycles, and how Red Shovel Landscape stands ready with practical, timely strategies for safeguarding your outdoor sanctuary all year round.
Seasonal Watch: Understanding Pest Life Cycles
Each season brings a different set of challenges in the perpetual task of lawn care. These challenges often come from pests in Albuquerque, where the desert climate meets urban life.
Here's what you need to know about the seasonal dynamics of the most common lawn invaders:
Spring Awakening: As the soil warms, creatures stir beneath. Spring sees the re-emergence of various insects, with grubs beginning their feast in earnest and aphids clustering on new growth. It's a time for both regrowth and vigilance.
Summer Infestations: The hot, dry Albuquerque summer is a prime time for pests like chinchbugs and spider mites, which thrive in these conditions. These months require proactive measures to keep hydration and nutrition levels optimal for your lawn's health, deterring opportunistic pests.
Autumn Invaders: Fall brings cooler temperatures and the onset of various lawn pests preparing for winter. Armyworms can be particularly troublesome, as they lay eggs in the grass, leading to an infestation of lawn-damaging larvae.
Winter Dormancy and Preparation: While many pests go dormant in the colder months, this is when larvae and certain insects settle into the soil, waiting for spring. Winter is for strategizing and preparing your lawn for the year ahead.
Weather Patterns and Lawn Pest Populations
In the diverse climate of Albuquerque, NM, residents face unique challenges in maintaining the vibrancy and health of their lawns, mainly due to fluctuating weather patterns directly impacting pest populations. The team at Red Shovel Landscape has pinpointed how these climatic nuances – from the dry, sweltering summers to the crisp, mild winters and the intermittent yet impactful monsoon rains – play a pivotal role in the emergence and proliferation of various lawn pests.
Understanding the symbiosis between local weather conditions and pest activity is beneficial; it's essential for homeowners seeking to preserve their yards' lush aesthetics and integrity throughout the year's seasonal shifts.
Impact of Monsoon Season: The arrival of the monsoon season brings moisture, encouraging a burst of life in your lawn. However, it also creates an ideal environment for pests that thrive in damp conditions, such as snails and certain fungi.
Drought Stress: Periods of drought stress lawns, making them more susceptible to infestations. Stressed grass attracts pests like grubs and cutworms, which seek out weakened root systems for easy nutrition.
Winter Chills: While Albuquerque's winters are relatively mild, cold snaps can be stressful for your lawn and beneficial insect populations, potentially tipping the ecological balance in favor of pest species come spring.
Timely Tips for Year-Round Lawn Defense
Maintaining a healthy, pest-free lawn requires consistent care and attention to the changing seasons. Red Shovel Landscape offers expert advice for tackling these issues year-round:
Spring Cleaning: Early spring is the time for clean-up. Clearing debris and thatch removes hiding places for pests and prevents fungal growth. It's also the time to apply pre-emergent treatments for weed control and fertilize for robust growth.
Summer Vigilance: Regular watering during the early morning helps lawns recover from high summer temperatures, deterring pests attracted to stressed grass. Stay vigilant for signs of infestation, such as brown patches or visible insect activity.
Autumn Prep: This season is ideal for aerating your lawn to prevent soil compaction and thatch build-up, which can harbor pests. Post-summer treatment may include addressing any pest outbreaks and overseeding to repair damaged areas.
Winter Strategies: To ensure optimal growth, it is crucial to provide ongoing care. This includes watering lightly during dry periods and maintaining a longer grass length, which protects the root system and offers shelter to beneficial insects that help regulate pest populations.
Integrated Pest Management: Red Shovel Landscape's Eco-Conscious Approach
Red Shovel Landscape advocates for Integrated Pest Management (IPM), an eco-friendly approach prioritizing your lawn's long-term health and ecological balance.
Monitoring and Identification: Not all insects are foes; identifying the problem ensures beneficial bugs remain unharmed. Regular monitoring catches issues before they become infestations.
Cultural Practices: A healthy lawn is your best defense. Practices like proper mowing, watering, and fertilizing create an environment where pests are less likely to thrive.
Targeted Treatments: The least disruptive methods are chosen if intervention is necessary. This might mean introducing predatory insects or applying organic, targeted treatments.
Education and Prevention: Clients are informed about the steps they can take, from choosing native plants more resistant to local pests to recognizing the early signs of a potential pest problem.
Your Ally in the Battle Against Lawn Pests
In the ever-changing environment of Albuquerque, lawn pests remain a constant adversary. Armed with knowledge, vigilance, and Red Shovel Landscape's expertise, you can confidently navigate through the seasons. Understanding when lawn pests are most active and how to counteract their presence naturally, you're equipped for a season and a future of lush, vibrant, and healthy landscapes. Remember, you're not alone in the battle against nature's nuisances. Red Shovel Landscape is your steadfast ally, turning the challenges of each season into opportunities for growth and renewal.